Best in Class: Chris Lee of Asylum
IDCS
◆

PDP

◆

SE01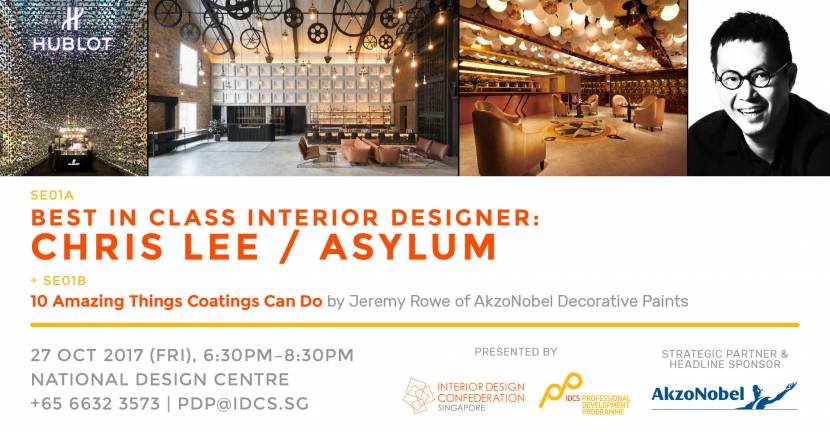 27 October 2017 (Fri)
6:30pm – 8:30pm
National Design Centre
Level 2 Auditorium
111 Middle Road
Singapore 188969
20 PDP Membership Points
General: $40
IDCS Members: $25
Student: $15
SE01A: NARRATIVE SPACES
Since its inception in 1999, Asylum has been defined as the 'unconventional maverick' of the creative world with their multi-disciplinary approach that integrates branding and spatial design. Their range of cross-disciplinary projects include environmental & interior design, interactive design, product development, branding and graphic design.
Join Chris Lee, Founder and Creative Director of Asylum, as he inspires you in conceptualising interior spaces, injecting his design concepts with a tinge of wit and humour.
It is this dose of humour and delight that has seen Asylum become one of the most respected creative companies in Asia, as the agency constantly creates surprises and adds an element of the unexpected and originality to each project. Chris Lee will also share how Asylum uses tools like mind-mapping & research to weave storytelling into compelling interiors.
This seminar will cover topics such as:
Asylum's background and history
How Chris Lee's non-traditional background has come to approach interiors in a different light
Illustration of Asylum's design thinking through projects
SE01B: 10 AMAZING THINGS COATING CAN DO
Sustainable Functionalities
Design – Perception of Space & Ambiance
Aesthetics & Touch
[Bonus] Fun & Bonding with Dulux Far Away Places
Imagining What Coatings Can Do In The Future! + Interactive game
JEREMY ROWE
Managing Director, AkzoNobel Decorative Paints, South East & South Asia, Middle East
Currently as the Managing Director for Decorative Paints in South East, South Asia & Middle East, Jeremy has built up the capabilities and collective leadership in the region to transform the organisation into extending leadership in the marketplace. Jeremy's top priorities are to advance the team's strategic thinking and organisational development. He is steering the team to focus on customers' expectation and the need for self expression.