Design Excellence Awards 2018/2019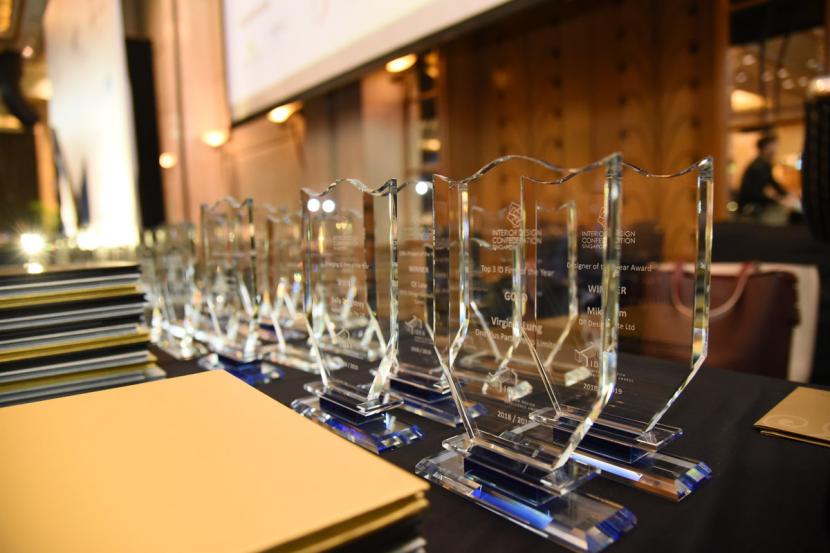 The Interior Design Confederation Singapore (IDCS) launches the 6th edition of the Design Excellence Awards 2018/2019! We have two NEW DEA co-chairs led by Mr Perry Ng and Mr Aik Kian Leow, together with Ms Philomena Seeto form the DEA organising committee. This year for DEA 2018/2019 we have included new Design categories, CA$H prizes, 6-page feature for Designer of the Year in Home & Decor Magazine and multiple-entry discounts!
Submissions has closed on 28 February 2019. Join us for the Gala Dinner and network with the jury panel and fellow designers!
Gala Dinner
25 March 2019, 6:30pm – 11:00pm
Grand Copthorne Waterfront
Category Winners
The results are in! Heartfelt congratulations to all the winners of IDCS's Design Excellence Awards 2018/2019.
IDEA Winners
Best Bathroom Design
Silver : Neutral Palette by Joey Khu Interior Design Pte Ltd
Best Exhibition Design
Gold : Le Pont Sales Gallery by PTang Studio Limited
Silver : Parc Esta Sales Gallery by PTang Studio Limited
Bronze : Altissimo Sales Gallery by PTang Studio Limited
Best F&B Design | ≤ 2,000 sqft
Silver : The Meating Place by Laank Pte Ltd
Bronze : Grind Coffee Café by TA.LE Architects
Best F&B Design | 2,001 – 5,000 sqft
Gold : Sheraton Grand Bengaluru Whitefield Hotel F&B by Catallo Assoc. Pte Ltd
Silver : Chamas Churrascaria Restaurant by Minkke Architects Pte Ltd
Bronze : Quaint & Quirky Dessert House by Chaos Design Studio
Best Hospitality Design | ≤ 50 rooms
Silver : Boat House Phuket by Laank Pte Ltd
Best Hospitality Design | ≥ 201 rooms
Gold : Novotel and Mercure Singapore on Stevens Road by DP Design Pte Ltd
Silver : Yotel Singapore by DP Design Pte Ltd
Bronze : Grand Sheraton Hotel, Bangalore/India by Catallo Assoc. Pte Ltd
Best Hospitality Design | 51 – 200 rooms
Bronze : Wimberly Interiors - Bellagio Shanghai by WATG
Best Kitchen Design
Silver : Unami The Kitchen by Lorenzo Tondelli
Best Public Design
Gold : Wuhan Wushang Mall Cinema 9F by One Plus Partnership Limited
Silver : Wuhan Panlong Plaza Yinxing Cinema by One Plus Partnership Limited
Bronze : Shanghai BFC Bona Cinema by One Plus Partnership Limited
Best Residential Design | Apartment ≤ 1,000 sqft
Gold : Khu Residence by Joey Khu Interior Design Pte Ltd
Silver : Seletar Park Residences by 0932 Design Consultants
Bronze : R+L by 0932 Design Consultants
Best Residential Design | Apartment ≥ 2,001 sqft
Gold : Corals by 0932 Design Consultants
Silver : Tomlinson Heights by JPA Design
Bronze : St Regis Penthouse (Singapore) by Genius Loci Pte Ltd
Best Residential Design | Apartment 1,001 – 2,000 sqft
Silver : Dusun by 0932 Design Consultants
Bronze : Sengkang East Apartment by EHKA Studio LLP
Best Residential Design | Private Houses
Gold : The Heng House by Goy Architects
Silver : Urban Retreat by Metaphor Studio Pte Ltd
Bronze : The Mansions by 0932 Design Consultants
Best Retail Design | ≤ 2,000 sqft
Gold : Epion Clinic by Laank Pte Ltd
Silver : Yoho Mall Chow Tai Fook Experience Shop by One Plus Partnership Limited
Best Retail Design | ≥ 5,001 sqft
Bronze : Babel Fit Asia by Genius Loci Pte Ltd
Best Retail Design | 2,001 – 5,000 sqft
Bronze : Porcelain Origins by Super Fat Designs
Best Workplace Design | ≤ 2,000 sqft
Silver : Hall, Mr & Mrs Blue by Hall Interiors Pte Ltd
Bronze : One Bite Design Studio by One Bite Design Studio Limited
Best Workplace Design | ≥ 5,001 sqft
Gold : FreeFlow Office by Laank Pte Ltd
Silver : Work at Home by DB&B Pte Ltd
Bronze : PwC Experience Centre by Siren Design Group (Singapore) Pte Ltd
Designer of the Year
Winner : Mike Lim, DP Design Pte Ltd
Emerging ID Firm of the Year
Winner : Geila Daughtrey, Rockett Studio Pte Ltd
IDEA Colour Award
Bronze : Khu Residence by Joey Khu Interior Design Pte Ltd
IDEA Project of the Year
Winner : Corals by 0932 Design Consultants
Top 3 ID Firm of the Year
Gold : Virginia Lung & Ajax Law, One Plus Partnership Limited
Silver : DP Design Pte Ltd
Bronze : CK Low, 0932 Design Consultants
SPADE Winners
Best Exhibition Design
Bronze : Nike Exhibition Design by See Eleven, Raffles Kuala Lumpur
Bronze : Marley Lavinson by Sim Chen Xiu, ITE College Central
Bronze : You are here, but not by Chew Yi Wei, Nanyang Academy of Fine Arts
Best F&B Design
Silver : The Rameh Fugang by Kirana Ariana Gunawan, Nanyang Academy of Fine Arts
Silver : Restaurant Gillman Barracks by Gareth Seah, National University of Singapore
Bronze : Teh by Veronica, Temasek Polytechnic
Best Hospitality Design
Silver : Dance of the Sugar Plum Fairy by Hoe Siang Wee, Temasek Polytechnic
Bronze : บัว ('Bạw'-Lotus in Thai) by Terence Tan Jia Ren, Singapore Polytechnic
Bronze : Original by Piaolei Huang, Raffles College of Higher Education
Best Public Design
Gold : Multifarious Link by Kai Yang Tan, Nanyang Polytechnic
Silver : Biophilic Corridor: Reweaving the Affiliation between Men & Nature by Bryan Adams Chng, The University of Western Australia
Silver : 2:1 by Kester Lim, Temasek Polytechnic
Best Residential Design
Silver : Le Ceviour by Johnathan Wijaya, Raffles College of Higher Education
Bronze : The Peak by Winnie Lim, Temasek Polytechnic
Best Retail Design
Gold : Vodafone Retail Store by Jocelyn Winata, Raffles Education Corporation Limited SG × Coventry University UK
Silver : Skateboarding Center by Yong Sheng Teng, Temasek Polytechnic
Bronze : Eeden by Natalie Hui, Temasek Polytechnic
Best Sustainable Design
Bronze : Highrise Village by Tai Jin Sim, Nanyang Polytechnic
Bronze : Go Green by Seow Qing Huat, Singapore Polytechnic
Best Workplace Design
Silver : NEST - Singapore Manufacturing Federation by Lu Ruei Rong, Tan Wen Jia,
Justin Tan, Meng Xiaoyun, An Jimin, Nanyang Polytechnic
Bronze : OAS – Our Art Space (Design Studio 3) by Andre Lim, Temasek Polytechnic
Bronze : Colgate SG by Nicholas Hein, Raffles Design Institute
Best Student Award
Silver : Flow by Goh Dai Ying, Temasek Polytechnic
Bronze : Court-Haus by Landon Ding, Temasek Polytechnic
Jury Panel
For the Interior Design Excellence Awards 2019 Professional Categories, the Jury Panel consists of (from left):
For the Spatial Design Awards 2019 Student Categories, the Jury Panel consists of (from left):
Media Coverage