IDCS Industry Dialogue Session
IDCS
◆

PDP

◆

ITE03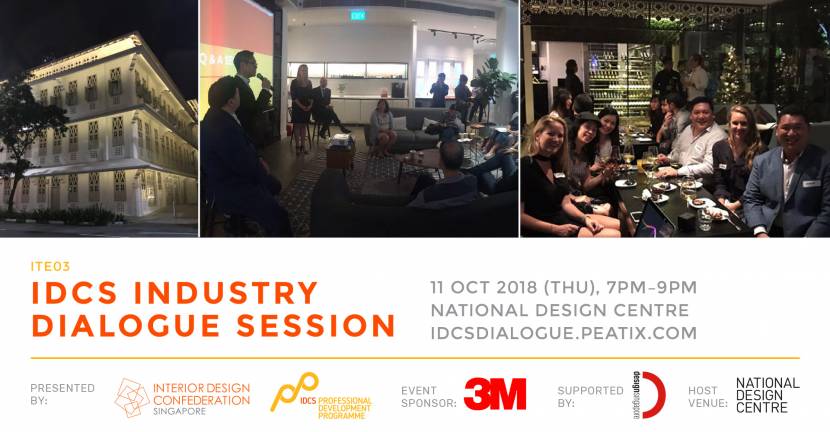 11 October 2018 (Thu)
7:00pm – 9:00pm
National Design Centre
Training Rooms 1 – 4
111 Middle Road
Singapore 188969
10 PDP Membership Points
IDCS Member: Free
Non-Member: $ 50
Students NA
Event Sponsor:

This is an invitation to all IDCS Members to have their voice heard on how the Industry should move forward with our key programmes to support the Interior Design Industry in Singapore – we will be discussing the following important industry topics during the evening:
POLLING FROM IDCS MEMBERS ATTENDING THE SESSION:
Agree baseline definitions for Interior Design services
Agree general scope of works for Interior Design phases
Prioritise Interior Design standard contracts for ID consultancy and ID turnkey projects by project type eg. residential, commercial, hospitality, others?
Gauge range of price points for each Design Phase scope of works
Determine the biggest challenges for 2018 facing IDCS members
What would Members want IDCS to focus and support them on for 2018-2019?
IDCS UPDATES TO MEMBERS:
Share PDP Calendar for 2018-2019
Share DEA Submission & Benefits for 2018
Accreditation – Update on the process
Benefits of being an IDCS Member
PRESENTATION BY 3M: AESTHETICS X FUNCTIONALITY
Key Points:
Design concepts trend
Minimising refurbishment downtime
Thinking ahead with quick and minimal patch repair
MR. JIMMY HO
Senior Principal Engineer, 3M
Jimmy has worked in 3M for 26 years as a graphic designer, product trainer and technical support for Commercial Solutions Division. He takes care of the APAC region technical support, specifically in the area of application training for the entire film application market. With his background as a graphic designer, he has acted as a consultant both internally and externally to advise customers on how to achieve optimal aesthetics in application. Jimmy has a reputation of being a very informative and entertaining speaker for professional events on film usage and application.
Member Downloads:
Please
log in
to download file.