Inaugural Interior Designers Bowling Night
IDCS
◆

PDP

◆

ITE01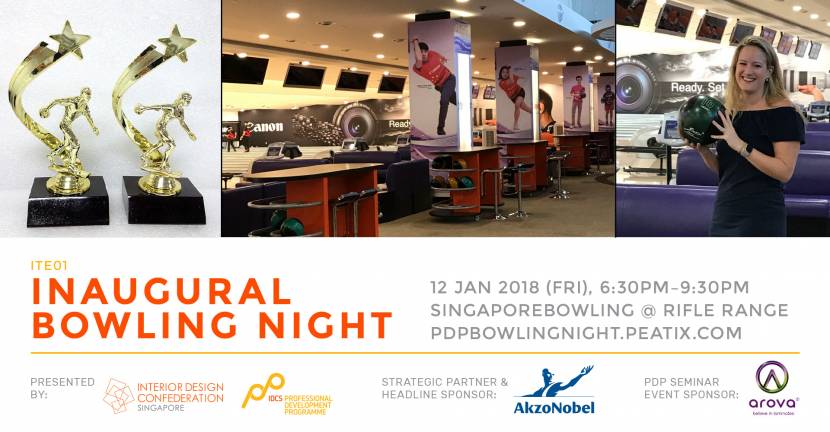 12 January 2018 (Fri)
6:00pm – 9:30pm
SingaporeBowling @ Rifle Range
131 Rifle Range Road
#04-01 Temasek Club
Singapore 588406
20 PDP Membership Points
Per Person: $5
Team Discount: $20 for 5 people
Strategic Partner & Headline Sponsor:

The NEW IDCS Council for 2018 – 2019, IDCS's Strategic Partner AkzoNobel and PDP event sponsor Arova, warmly invite you to our inaugural Interior Designers Bowling Night.
We hope to help the interior Design industry create better connections with our fellow Interior Designers, provide an opportunity for you to show off your bowling prowess, win some trophies and make some new friends in the process. Join us for a great evening of fun!
TEAMS & TROPHIES
Each Lane will have a Team of 5 people – a Team Leader is to be appointed for liaising with IDCS.
Team members are to be given to the Bowling Centre for computer input 1 week before the event.
Trophies will be given to:
Male Individual Trophies – First, Second, Third Highest Score
Female Individual Trophies – First, Second, Third Highest Score
Team Trophies – First, Second, Third Highest Team Score
Champion Trophy – Highest Team Score