Project of the Year 2021 Voting Poll
IDCS
◆

DEA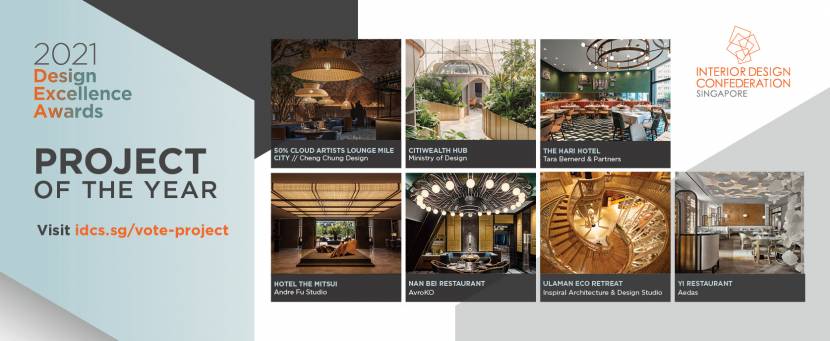 1 July 2021 – 31 August 2021
IDCS is delighted to announce the 7 nominees short-listed for DEA 2021 Project of the Year:
The Hari Hotel, Hong Kong 2020 | Tara Bernerd & Partners
Citiwealth Hub, Singapore 2021 | Colin Seah - Ministry of Design
Ulaman Eco Retreat, Bali 2020 | Inspiral Architecture & Design Studio
Nan Bei Restaurant, Bangkok 2019 | AvroKO
Hotel the Mitsui, Kyoto 2020 | Andre Fu Studio
Yi Restaurant, Raffles Hotel, Singapore 2019 | Aedas
50% Cloud Artists Lounge Mile City, China 2020 | Cheng Chung Design
All interior designers and suppliers, collaborators and supporters of the interior design industry are welcome to vote and share the voting link with their network to help our industry choose the winner .
Voting closes on 31st August 2021 at 11:59pm SGT.
Have your say in deciding who wins the award!